Toyota 4Runner: Clock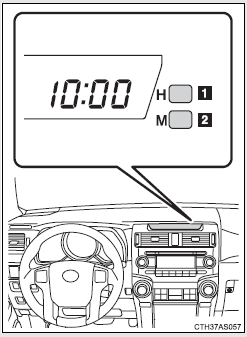 1. Adjusts the hours
2. Adjusts the minutes
For quicker adjustment of the clock
To advance the minutes and hours quickly, press and hold the "M" or "H" button.
The time can be adjusted back or forth by following the procedure below: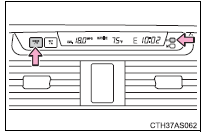 The hour or minute can be moved forward or backward by pressing the "MODE/
" or "SET/


" button while pressing and holding
the "H" or "M" button.
If the "MODE/

" or "SET/

" button is also pressed and held in
the above operation, the hour or minute will move faster.
The clock is displayed when Vehicles without a smart key system
The engine switch is in the "ACC" or "ON" position.
Vehicles with a smart key system
The "ENGINE START STOP" switch is in ACCESSORY or IGNITION ON mode.
When disconnecting and reconnecting battery terminals
The clock data will be reset.