Toyota 4Runner: Hands-free phone system (for cellular phone) features
This system supports Bluetooth®, which allows you to make or receive calls without using cables to connect a cellular phone and the system, and without operating the cellular phone.
Owners of models equipped with a Display Audio system should refer to the "Display Audio System Owner's Manual".
Owners of models equipped with a navigation system should refer to the "Navigation System Owner's Manual".
Hands-free system quick guide
Setting a cellular phone.

Adding an entry to the phonebook
(Up to 20 names can be stored).

Dialing by inputting a name.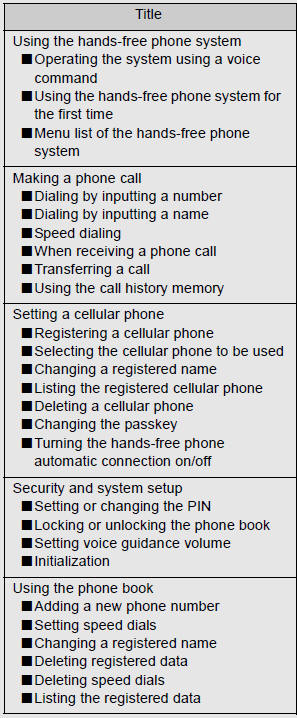 Conditions under which the system will not operate
• If using a cellular phone that does not support Bluetooth®
• If the cellular phone is switched off
• If you are outside service range
• If the cellular phone is not connected
• If the cellular phone's battery is low
• If the cellular phone is behind the seat or in the glove box or console box

• If metal is covering or touching the cellular phone
When transferring ownership of the vehicle
Be sure to initialize the system to prevent personal data from being improperly accessed.
Required profiles for the cellular phone
• HFP (Hands Free Profile) Ver. 1.0
• OPP (Object Push Profile) Ver. 1.1
About Bluetooth®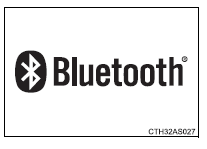 Bluetooth is a registered trademark of Bluetooth SIG. Inc.
Certification for the hands-free phone system
FCC ID: AJDK025 AJDK032 IC ID: 775E-K025 775E-K032 MADE IN JAPAN This device complies with Part 15 of FCC Rules and Industry Canada licence-exempt RSS standard(s). Operation is subject to the following two conditions: (1) this device may not cause interference, and (2) this device must accept any interference, including interference that may cause undesired operation of this device.
Le présent appareil est conforme aux la partie 15 des règles de la FCC et CNR d'Industrie Canada applicables aux appareils radio exempts de licence. L'exploitation est autorisée aux deux conditions suivantes: (1) l'appareil ne doit pas produire de brouillage, et (2) l'utilisateur de l'appareil doit accepter tout brouillage radioélectrique subi, même si le brouillage est susceptible d'en compromettre le fonctionnement.
CAUTION
FCC WARNING
Changes or modifications not expressly approved by the party responsible for compliance could void the user's authority to operate the equipment.
Radio Frequency Radiation Exposure. This equipment complies with FCC/ IC radiation exposure limits set forth for an uncontrolled environment and meets the FCC radio frequency (RF) Exposure Guidelines in Supplement C to OET65 and RSS-102 of the IC radio frequency (RF) Exposure rules. This equipment has very low levels of RF energy that it deemed to comply without maximum permissive exposure evaluation (MPE). But it is desirable that it should be installed and operated keeping the radiator at least 20 cm or more away from person's body (excluding extremities: hands, wrists, feet and ankles).
Cet équipement est conforme aux limites d'exposition aux rayonnements énoncées pour un environnement non contrôlé et respecte les règles les radioélectriques (RF) de la FCC lignes directrices d'exposition dans le Supplément C à OET65 et d'exposition aux fréquences radioélectriques (RF) CNR-102 de l'IC. Cet équipement émet une énergie RF très faible qui est considérée conforme sans évaluation de l'exposition maximale autorisée. Cependant, cet équipement doit être installé et utilisé en gardant une distance de 20 cm ou plus entre le dispositif rayonnant et le corps (à l'exception des extrémités: mains, poignets, pieds et chevilles).
This transmitter must not be co-located or operated in conjunction with any other antenna or transmitter.
Caution while driving
Do not use a cellular phone, or connect the Bluetooth® phone.
NOTICE
To prevent damage to a cellular phone
Do not leave a cellular phone in the vehicle. The temperature inside may become high resulting in damage to the phone.