Toyota 4Runner: Using the hands-free phone system (for cellular phone)
Audio unit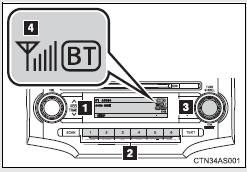 1. Display A message, name, phone number, etc. is displayed.
Lower-case characters and special characters, such as an umlaut, cannot be displayed.
2. Selects speed dials 3. Selects items such as menu or number Turn: Selects an item Press: Inputs the selected item 4. Bluetooth® connection condition and reception level If "BT" is not displayed, the hands-free phone system cannot be used.
Steering wheel switches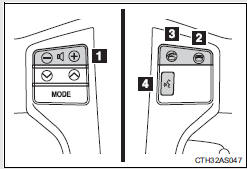 1. Volume The voice guidance volume cannot be adjusted using this button.
2. On-hook switch Turns the hands-free system off/ends a call/refuses a call 3. Off-hook switch Turns the hands-free system on/starts a call 4. Talk switch Turns the voice command system on (press)/turns the voice command system off (press and hold)
Microphone