Toyota 4Runner: Precaution
PRECAUTION
1. IGNITION SWITCH EXPRESSIONS
HINT:
The type of ignition switch used on this model differs according to the specifications of the vehicle. The expressions listed in the table below are used in this section.
| Expression | Ignition Switch (position) | Engine Switch (condition) |
| --- | --- | --- |
| Ignition Switch off | Off | Off |
| Ignition Switch ACC | ACC | On (ACC) |
| Ignition Switch ON | ON | On (IG) |
| Engine Start | START | Start |
2. IF ANY OF FOLLOWING CONDITIONS ARE MET, KEEP ENGINE IDLING (ENGINE SPEED AT LESS THAN 2000 RPM) WITH AIR CONDITIONING SWITCH ON FOR AT LEAST 2 MINUTES
Refrigerant gas has been refilled or parts of the air conditioning system have been replaced.
The engine has not been started for a long time.
NOTICE:
If the engine speed is more than 2000 rpm, the cooler compressor assembly may be damaged.
3. DO NOT HANDLE REFRIGERANT IN AN ENCLOSED AREA OR NEAR AN OPEN FLAME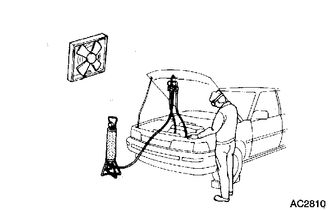 4. ALWAYS WEAR EYE PROTECTION
5. BE CAREFUL NOT TO GET LIQUID REFRIGERANT IN YOUR EYES OR ON YOUR SKIN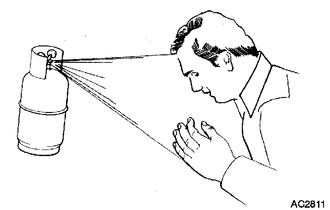 If liquid refrigerant gets in your eyes or on your skin:
(a) Wash the area with lots of cold water.
CAUTION:
Do not rub your eyes or skin.
(b) Apply clean petroleum jelly to the skin.
(c) Go immediately to a hospital or see a physician for professional treatment.
6. NEVER HEAT CONTAINER OR EXPOSE IT TO OPEN FLAME
7. BE CAREFUL NOT TO DROP CONTAINER OR APPLY PHYSICAL SHOCKS TO IT
8. DO NOT OPERATE COMPRESSOR WITH INSUFFICIENT REFRIGERANT IN REFRIGERANT SYSTEM
If there is not enough refrigerant in the refrigerant system, oil lubrication will be insufficient and compressor burnout may occur. Necessary care should be taken to avoid this.
9. DO NOT OPEN HIGH PRESSURE MANIFOLD VALVE WHILE COMPRESSOR IS OPERATING
Open and close only the low pressure valve. Opening and closing the high pressure valve could cause the charging cylinder to rupture.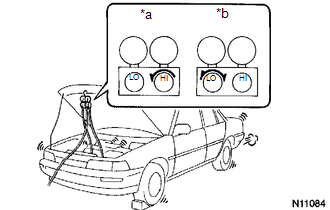 Text in Illustration
10. BE CAREFUL NOT TO OVERCHARGE SYSTEM WITH REFRIGERANT
If the refrigerant is overcharged, it causes problems such as insufficient cooling, poor fuel economy and engine overheating.
11. DO NOT OPERATE ENGINE AND COOLER COMPRESSOR ASSEMBLY WITHOUT REFRIGERANT
NOTICE:
This may damage the inside of the cooler compressor assembly.
PARTS LOCATION ILLUSTRATION ILLUSTRATION ILLUSTRATION ...
SYSTEM DESCRIPTION 1. GENERAL (a) The air conditioning system has the following controls. Control Outline Neural Network Control This control is ca ...
Other materials about Toyota 4Runner:
System Diagram
SYSTEM DIAGRAM Communication Table Sender Receiver Signal Line Center airbag sensor assembly Main body ECU (multiplex network body ECU) Front seat inner belt LH buckle swit ...
Terminals Of Ecu
TERMINALS OF ECU 1. TERMINALS OF ECU Text in Illustration *a Component without harness connected (Skid Control ECU) - - Terminal No. (Symbol) Terminal Description ...