Toyota 4Runner: Relay(for Magnet Clutch Control)
On-vehicle Inspection
ON-VEHICLE INSPECTION
PROCEDURE
1. REMOVE MAGNET CLUTCH RELAY
(a) Remove the magnet clutch relay from the engine room relay block.

Text in Illustration
2. INSPECT MAGNET CLUTCH RELAY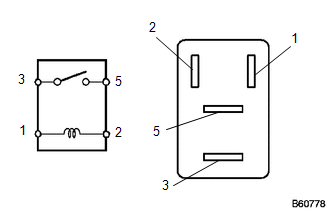 (a) Measure the resistance of the according to the value(s) in the table below.
Standard Resistance:
Tester Connection

Condition

Specified Condition

3 - 5

Battery voltage not applied between terminals 1 and 2

10 kΩ or higher

Battery voltage applied to terminal 1 and 2

Below 1 Ω
If the result is not as specified, replace the relay.
3. INSTALL MAGNET CLUTCH RELAY
(a) Install the magnet clutch relay to the engine room relay block.
Components COMPONENTS ILLUSTRATION ...
On-vehicle Inspection ON-VEHICLE INSPECTION PROCEDURE 1. REMOVE PTC HEATER RELAY (PTC NO. 1, PTC NO. 1, PTC NO. 3) (a) Remove the 3 PTC heater relays from the engine room relay block. ...
Other materials about Toyota 4Runner:
Freeze Frame Data
FREEZE FRAME DATA 1. CHECK FREEZE FRAME DATA (a) Connect the Techstream to the DLC3. (b) Turn the ignition switch to ON. (c) Turn the Techstream on. (d) Enter the following menus: Body Electrical / Navigation System / Trouble Codes. (e) Select a DTC to ...
System Diagram
SYSTEM DIAGRAM Communication Table Sender Receiver Signal Line ECM Main Body ECU (Multiplex Network Body ECU) Shift position P signal Transmission informatio ...