Toyota 4Runner: Intuitive parking assist
The distance from your vehicle to nearby obstacles when parallel parking or maneuvering into a garage is measured by the sensors and communicated via an indicator and a buzzer. Always check the surrounding area when using this system.
Types of sensors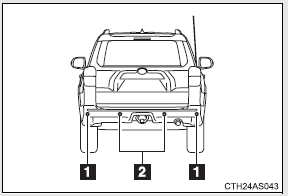 1. Rear corner sensors 2. Rear center sensors
Intuitive parking assist switch
Turns the intuitive parking assist on/off
When on, the indicator light comes on and the buzzer sounds to inform the driver that the system is operational.