Toyota 4Runner: Navigation Voice Circuit
DESCRIPTION
This circuit is used when the voice guidance in the navigation system is on or an incoming cellular phone voice in the "Bluetooth" hands-free system is heard.
Using this circuit, the navigation receiver assembly sends the signals to the stereo component amplifier assembly.
WIRING DIAGRAM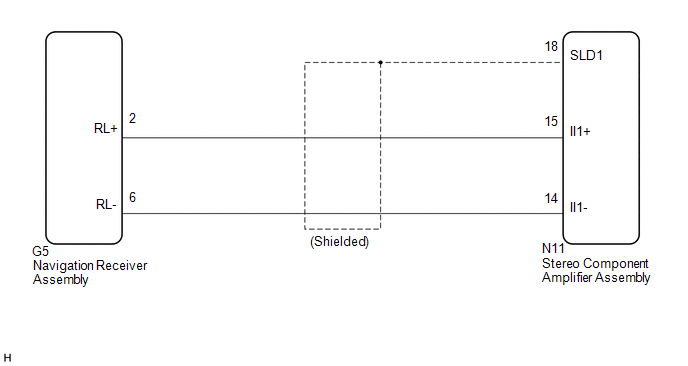 PROCEDURE
| | |
| --- | --- |
| 1. | CHECK HARNESS AND CONNECTOR (NAVIGATION RECEIVER ASSEMBLY - STEREO COMPONENT AMPLIFIER ASSEMBLY) |
(a) Disconnect the G5 navigation receiver assembly connector.
(b) Disconnect the N11 stereo component amplifier assembly connector.
(c) Measure the resistance according to the value(s) in the table below.
Standard Resistance:
| Tester connection | Condition | Specified condition |
| --- | --- | --- |
| G5-2 (RL+) - N11-15 (II1+) | Always | Below 1 Ω |
| G5-6 (RL-) - N11-14 (II1-) | Always | Below 1 Ω |
| N11-18 (SLD1) - Body ground | Always | 10 kΩ or higher |
| N11-14 (II1-) - Body ground | Always | 10 kΩ or higher |
| N11-15 (II1+) - Body ground | Always | 10 kΩ or higher |
| | | |
| --- | --- | --- |
| OK | | PROCEED TO NEXT SUSPECTED AREA SHOWN IN PROBLEM SYMPTOMS TABLE |
| | | |
| --- | --- | --- |
| NG | | REPAIR OR REPLACE HARNESS OR CONNECTOR |