Toyota 4Runner: Removal
REMOVAL
CAUTION / NOTICE / HINT
CAUTION:
Wear protective gloves. Sharp areas on the parts may injure your hands.
PROCEDURE
1. REMOVE REAR SEAT ASSEMBLY LH
(a) Remove the rear seat assembly LH (See page

).
2. REMOVE REAR SEAT UPPER RECLINING COVER LH

3. REMOVE RECLINING ADJUSTER RELEASE HANDLE LH

4. REMOVE CENTER SEAT HINGE COVER RH

5. REMOVE REAR SEAT CUSHION MOULDING LH

6. REMOVE REAR SEATBACK LOCK STRIKER COVER LH

7. REMOVE SEAT CUSHION COVER WITH PAD

8. REMOVE REAR NO. 1 SEAT INNER BELT ASSEMBLY LH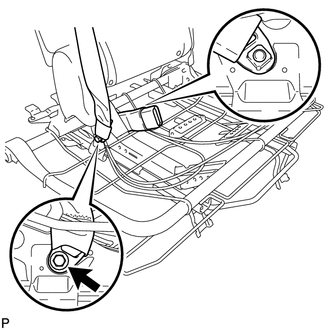 (a) Remove the bolt and inner belt and disconnect the 3 point type belt.