Toyota 4Runner: Ambient Temperature Sensor
Components
COMPONENTS
ILLUSTRATION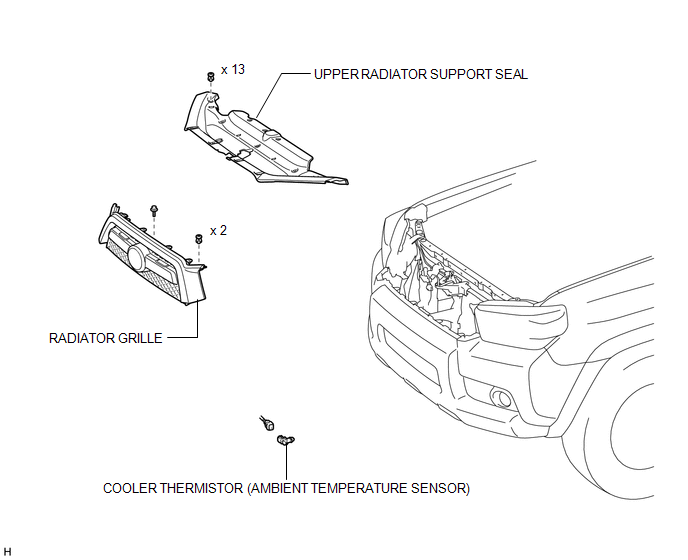 Inspection
INSPECTION
PROCEDURE
1. INSPECT COOLER THERMISTOR (AMBIENT TEMPERATURE SENSOR)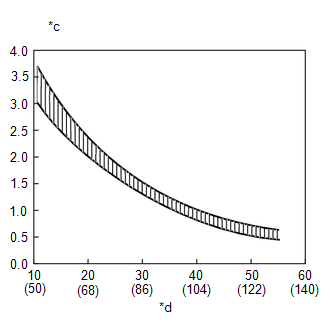 (a) Measure the resistance according to the value(s) in the table below.
Standard Resistance:
Tester Connection

Condition

Specified Condition

1 - 2

10°C (50°F)

3.00 to 3.73 kΩ

15°C (59°F)

2.45 to 2.88 kΩ

20°C (68°F)

1.95 to 2.30 kΩ

25°C (77°F)

1.60 to 1.80 kΩ

30°C (86°F)

1.28 to 1.47 kΩ

35°C (95°F)

1.00 to 1.22 kΩ

40°C (104°F)

0.80 to 1.00 kΩ

45°C (113°F)

0.65 to 0.85 kΩ

50°C (122°F)

0.50 to 0.70 kΩ

55°C (131°F)

0.44 to 0.60 kΩ

60°C (140°F)

0.36 to 0.50 kΩ
HINT:
As the temperature increases, the resistance decreases (refer to the graph).
NOTICE:
Touching the sensor even slightly may change the resistance value. Hold the connector of the sensor.
When measuring the resistance, make sure the sensor temperature is the same as the ambient temperature.
If the result is not as specified, replace the cooler thermistor (ambient temperature sensor).
Text in Illustration
*a

Component without harness connected

(Ambient Temperature Sensor)

*b

Sensor Area

*c

Resistance (kΩ)

*d

Temperature (°C(°F))
Installation
INSTALLATION
PROCEDURE
1. INSTALL COOLER THERMISTOR (AMBIENT TEMPERATURE SENSOR)
(a) Attach the clamp to install the sensor.
(b) Connect the connector.
2. INSTALL RADIATOR GRILLE
(a) Install the radiator grille (See page

).
3. INSTALL UPPER RADIATOR SUPPORT SEAL

Removal
REMOVAL
PROCEDURE
1. REMOVE UPPER RADIATOR SUPPORT SEAL
2. REMOVE RADIATOR GRILLE
(a) Remove the radiator grille (See page
).
3. REMOVE COOLER THERMISTOR (AMBIENT TEMPERATURE SENSOR)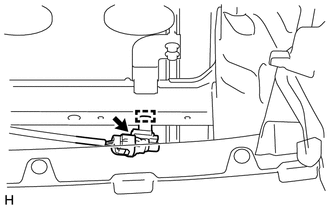 (a) Disconnect the connector.
(b) Using a screwdriver, detach the clamp and remove the sensor.
HINT:
Tape the screwdriver tip before use.
REASSEMBLY PROCEDURE 1. INSTALL NO. 1 COOLER THERMISTOR NOTICE: If reusing the evaporator, do not insert the thermistor into a location where the thermistor was previously inserted. (a) Inser ...
Components COMPONENTS ILLUSTRATION ILLUSTRATION Removal REMOVAL PROCEDURE 1. REMOVE AIR CONDITIONING UNIT (a) Remove the air conditioning unit (See page ). 2. REMOVE BLOWER ASSEMBLY ...
Other materials about Toyota 4Runner:
Inspection
INSPECTION PROCEDURE 1. INSPECT FRONT PROPELLER SHAFT ASSEMBLY (a) Using a dial indicator, check the propeller shaft runout. Maximum runout: 0.3 mm (0.0118 in.) If the shaft runout is more than the maximum, replace the propeller shaft. ...
Adjusting the settings manually
Basic setting To turn on the air conditioning system and adjust the fan speed, press ">" on to increase the fan speed and "<" to decrease the fan speed. Press to turn the fan off. To adjust the temperature setting, turn clockwise t ...