Toyota 4Runner: Calibration
CALIBRATION
Initial Calibration of Compass:
The compass indicates the direction that the vehicle is heading by detecting the direction and strength of the earth's magnetic field and processing this data using the compass sensor and microcomputer. Detection of the direction and strength of the earth's magnetic field varies according to the area in which the vehicle is used and is affected by the residual magnetism of the vehicle. For this reason, the geographic direction displayed may also deviate from the direction determined by the earth's magnetic field according to the area in which the vehicle is used. Therefore, perform the initial calibration of the compass prior to delivery to customers.
1. CIRCLING CALIBRATION PROCEDURE
(a) Start the engine and push the "MODE" button for more than a few seconds.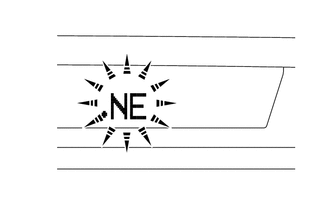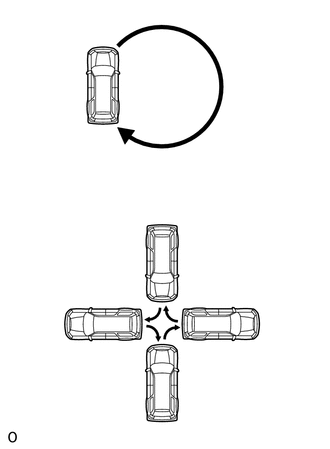 (b) Drive the vehicle slowly at 8 km/h (5 mph) or less in a circle. If there is not enough space to drive in a circle, turn the car around in the following manner, doing two three-point turns in succession. After driving in 1 to 3 circles in the above method, calibration is completed when the direction is shown on the display.
HINT:
Do not perform calibration of the compass in a place where the earth's magnetic field is subject to interference by artificial magnetic fields (in an underground parking lot, under a steel tower, between buildings, in a parking lot on a roof, near a crossing, near a large vehicle, etc.).
During calibration, do not operate electrical systems (sliding roof, power windows, etc.) as they may interfere with the calibration.
The dot on the compass display disappears when calibration is completed.
OPERATION CHECK 1. INSPECT INDICATOR/WARNING LIGHT (a) Check the following indicators and warning lights. Indicator/Warning Light Switch Condition Specified Conditi ...
INITIALIZATION 1. OIL MAINTENANCE INFORMATION MODE RESET OPERATION NOTICE: When "Oil Maintenance Required Soon" is displayed, change the engine oil and perform this procedure. ...
Other materials about Toyota 4Runner:
Installation
INSTALLATION PROCEDURE 1. INSTALL NO. 2 OIL COOLER TUBE SUB-ASSEMBLY (a) Temporarily install the oil cooler tube to the fan shroud with bolt A. Install bolt B and tighten it to the specified torque. Then tighten bolt A to the specified to ...
System Description
SYSTEM DESCRIPTION 1. GENERAL (a) To assist the driver with parking the vehicle by displaying an image of the area behind the vehicle, this system has a rear television camera assembly mounted on the back door. The system displays the image on the radio ...