Toyota 4Runner: Disassembly
DISASSEMBLY
PROCEDURE
1. REMOVE COOLER BRACKET
(a) Detach the clamp.
(b) Remove the screw and cooler bracket.
2. REMOVE MAGNET CLUTCH ASSEMBLY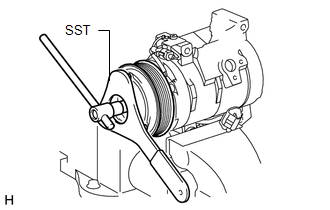 (a) Clamp the cooler compressor in a vise.
(b) Using SST, hold the magnet clutch hub.
SST: 07112-76060
(c) Remove the bolt, magnet clutch hub and magnet clutch washer(s).
HINT:
There is no set number of magnet clutch washers since they are used for adjusting.
(d) Using a snap ring expander, remove the snap ring and magnet clutch rotor.

NOTICE:

Do not damage the seal cover of the bearing when removing the snap ring.
(e) Disconnect the connector.
| | |
| --- | --- |
| (f) Using a snap ring expander, remove the snap ring and magnet clutch stator. | |