Toyota 4Runner: Horn System
Parts Location
PARTS LOCATION
ILLUSTRATION
Problem Symptoms Table
PROBLEM SYMPTOMS TABLE
HINT:
Use the table below to help determine the cause of problem symptoms. If multiple suspected areas are listed, the potential causes of the symptoms are listed in order of probability in the "Suspected Area" column of the table. Check each symptom by checking the suspected areas in the order they are listed. Replace parts as necessary.
Horn System
Symptom

Suspected Area

See page

Horn does not sound

HORN fuse




Low pitched horn assembly




High pitched horn assembly




Engine room relay block (No. 1 integration relay)




Steering pad (Horn button assembly)




Steering pad switch assembly*

-

Spiral cable sub-assembly




Harness or connector

-
*: w/ Steering Pad Switch Assembly
System Diagram
SYSTEM DIAGRAM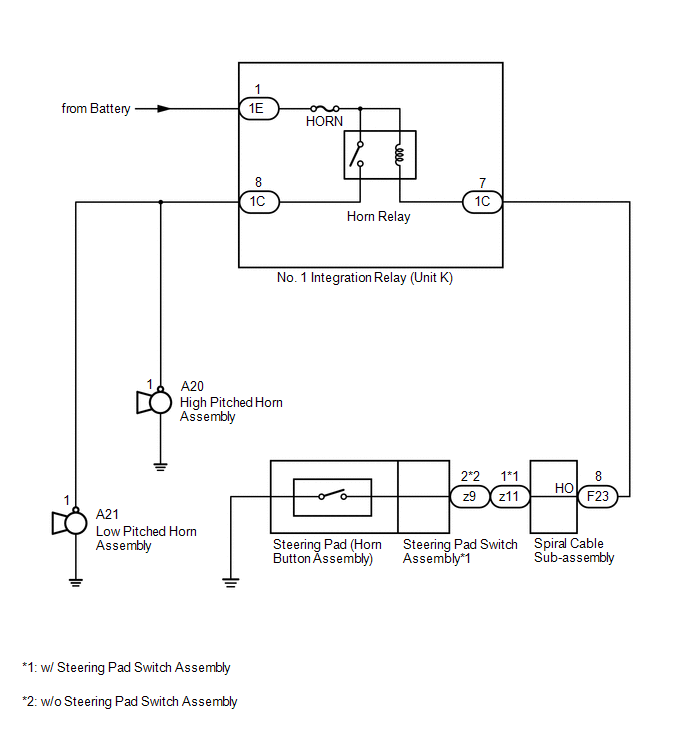 Components COMPONENTS ILLUSTRATION Inspection INSPECTION PROCEDURE 1. INSPECT HIGH PITCHED HORN ASSEMBLY (a) Apply battery voltage and check the operation of the horn according to the ...
On-vehicle Inspection ON-VEHICLE INSPECTION PROCEDURE 1. REMOVE NO. 1 RELAY BLOCK COVER (a) Remove the No. 1 relay block cover. 2. INSPECT NO. 1 INTEGRATION RELAY (a) Using a screwd ...
Other materials about Toyota 4Runner:
Inspection
INSPECTION PROCEDURE 1. TRANSFER SYSTEM NOTICE: To shift from H2 to H4, move the transfer shift lever while keeping the wheels facing straight ahead. To shift from H4 to L4, stop the vehicle, move the shift lever to N and then move the ...
Front Airbag Sensor RH Malfunction (B1610/13)
DESCRIPTION The front airbag sensor RH consists of the diagnostic circuit and frontal deceleration sensor, etc. If the center airbag sensor receives signals from the frontal deceleration sensor, it determines whether the SRS should be activated. DTC B16 ...