Toyota 4Runner: Horn System
Parts Location
PARTS LOCATION
ILLUSTRATION
Problem Symptoms Table
PROBLEM SYMPTOMS TABLE
HINT:
Use the table below to help determine the cause of problem symptoms. If multiple suspected areas are listed, the potential causes of the symptoms are listed in order of probability in the "Suspected Area" column of the table. Check each symptom by checking the suspected areas in the order they are listed. Replace parts as necessary.
Horn System
Symptom

Suspected Area

See page

Horn does not sound

HORN fuse




Low pitched horn assembly




High pitched horn assembly




Engine room relay block (No. 1 integration relay)




Steering pad (Horn button assembly)




Steering pad switch assembly*

-

Spiral cable sub-assembly




Harness or connector

-
*: w/ Steering Pad Switch Assembly
System Diagram
SYSTEM DIAGRAM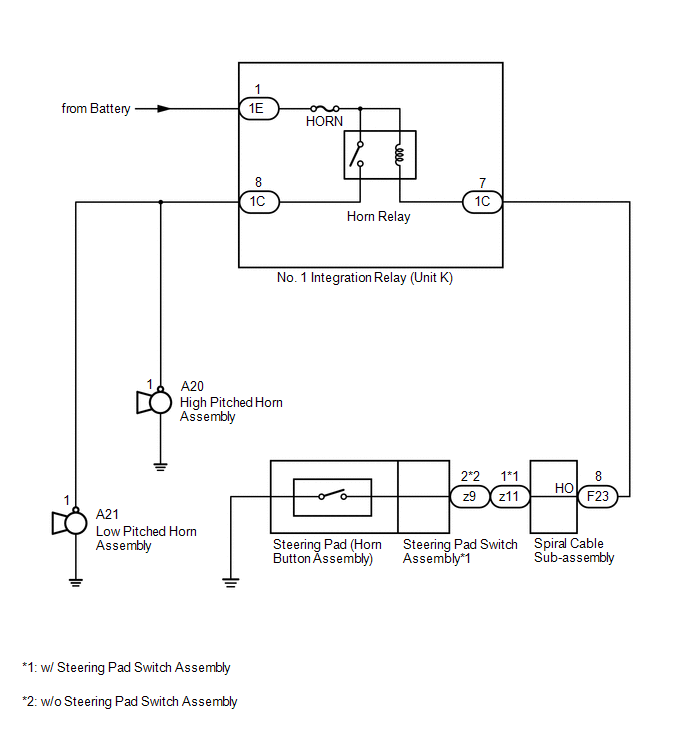 Components COMPONENTS ILLUSTRATION Inspection INSPECTION PROCEDURE 1. INSPECT HIGH PITCHED HORN ASSEMBLY (a) Apply battery voltage and check the operation of the horn according to the ...
On-vehicle Inspection ON-VEHICLE INSPECTION PROCEDURE 1. REMOVE NO. 1 RELAY BLOCK COVER (a) Remove the No. 1 relay block cover. 2. INSPECT NO. 1 INTEGRATION RELAY (a) Using a screwd ...
Other materials about Toyota 4Runner:
Bluetooth® audio system
The Bluetooth® audio system enables you to enjoy music played on a portable digital audio player (portable player) from the vehicle speakers via wireless communication. This audio system supports Bluetooth®, a wireless data system capable of playing p ...
How To Proceed With Troubleshooting
CAUTION / NOTICE / HINT HINT: Use these procedures to troubleshoot the power window control system. *: Use the Techstream. PROCEDURE 1. VEHICLE BROUGHT TO WORKSHOP NEXT ...