Toyota 4Runner: On-vehicle Inspection
ON-VEHICLE INSPECTION
PROCEDURE
1. INSPECT VEHICLE HEIGHT
NOTICE:
Perform the calibration on a level surface.
Perform the calibration with the vehicle empty.
Make sure that the wheels are on the ground and facing straight ahead.
Perform the calibration with the vehicle load completely on the suspension.
(a) Set the tire pressure to the specified value(s) (See page
).
(b) Bounce the vehicle to stabilize the suspension.
(c) Measure the distance from the ground to the top of the bumper and calculate the difference in the vehicle height between the left and right sides. Perform this procedure for both the front and rear wheels.

Height difference of left and right sides:

20 mm (0.787 in.) or less

HINT:

When the difference in vehicle height between the left and right sides is outside of the specification, perform air bleeding (See page ).



2. INSPECT FOR SUSPENSION FLUID LEAK
CAUTION:
Fluid is pumped into the system at a high pressure of approximately 3 MPa (30.6 kgf/cm2, 435 psi). If a fluid leak is discovered, immediately release the pressure and repair the fluid leak.
(a) Perform a driving test.
(b) Check for fluid leakage from the parts and connections shown in the illustration.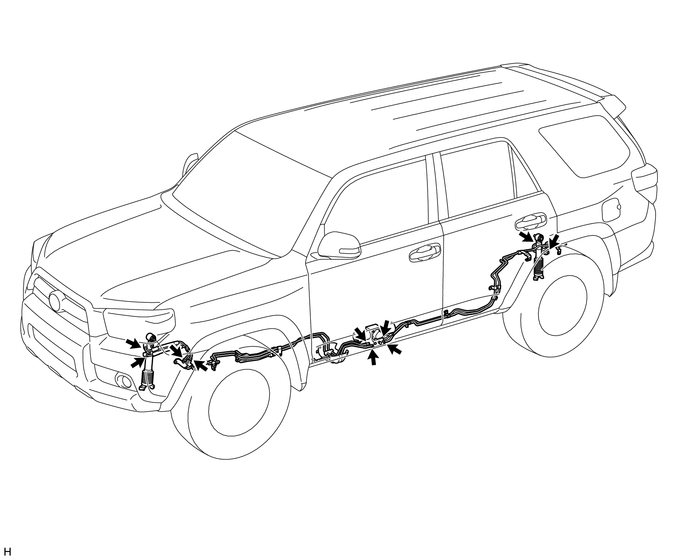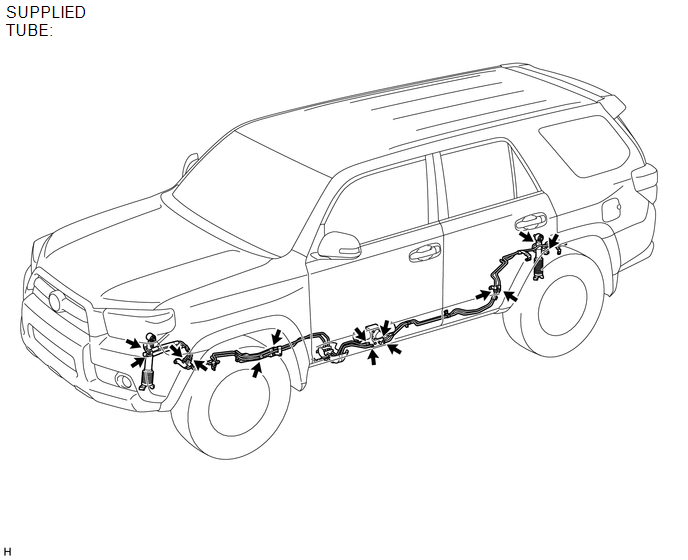 PROBLEM SYMPTOMS TABLE HINT: Use the table below to help determine the cause of problem symptoms. If multiple suspected areas are listed, the potential causes of the symptoms are listed in order ...
BLEEDING PROCEDURE 1. BLEED AIR FROM SUSPENSION FLUID CAUTION: Be sure to check the pipe connections and whether or not any hydraulic circuit parts are damaged before performing work a ...
Other materials about Toyota 4Runner:
Diagnostic Trouble Code Chart
DIAGNOSTIC TROUBLE CODE CHART NOTICE: Turn the ignition switch off before removing parts. HINT: If no abnormality is found when inspecting parts, inspect the stabilizer control ECU and ground points for poor contact. If a trouble code is ou ...
System Description
SYSTEM DESCRIPTION 1. GENERAL (a) The air conditioning system has the following controls. Control Outline Manual Control The air conditioning amplifier assembly controls the damper positions (air inlet c ...