Toyota 4Runner: Precaution
PRECAUTION
1. IGNITION SWITCH EXPRESSION
HINT:
The type of ignition switch used on this model differs according to the specifications of the vehicle. The expressions listed in the table below are used in this section.
| Expression | Ignition Switch (position) | Engine Switch (condition) |
| --- | --- | --- |
| Ignition Switch off | Off | Off |
| Ignition Switch ON | ON | On (IG) |
| Ignition Switch ACC | ACC | On (ACC) |
| Engine Start | START | Start |
2. STEERING SYSTEM HANDLING PRECAUTIONS
(a) Care must be taken when replacing parts. Incorrect replacement could affect the performance of the steering system and result in hazards when driving.
3. SRS AIRBAG SYSTEM HANDLING PRECAUTIONS
(a) This vehicle is equipped with an SRS (Supplemental Restraint System), which includes components such as the driver airbag and front passenger airbag. Failure to carry out service operations in the correct sequence could cause unexpected SRS deployment during servicing and may lead to a serious accident. Before servicing (including installation/removal, inspection and replacement of parts), be sure to read the precautionary notice for the Supplemental Restraint System (See page

).
4. BUS LINE REPAIR
(a) After repairing the bus line with solder, wrap the repaired part with vinyl tape (See page

).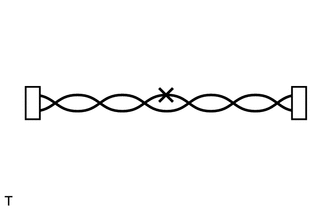 NOTICE:
The CANL bus line and CANH bus line must be installed together.
When installing the CAN bus lines, be sure to twist them.
CAN bus lines are likely to be influenced by noise if the bus lines are not twisted together.
The difference in length between the CANL bus line and CANH bus line should be less than 100 mm (3.94 in.).
Leave approximately 80 mm (3.15 in.) loose in the twisted wires around the connectors.
(b) Do not use by-pass wiring between the connectors.
NOTICE:
The protective effect of the twisted wire harness is lost if bypass wiring is used.
Text in Illustration
5. CONNECTOR HANDLING
(a) When inserting probes into a connector, insert them from the rear of the connector.
Text in Illustration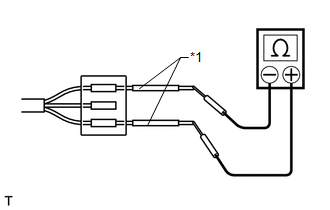 (b) Use a repair wire to check the connector if it is impossible to check resistance from the rear of the connector.
Text in Illustration
PARTS LOCATION ILLUSTRATION ILLUSTRATION ILLUSTRATION ILLUSTRATION ILLUSTRATION ...
Other materials about Toyota 4Runner:
Dtc Check / Clear
DTC CHECK / CLEAR 1. CHECK DTC HINT: When DTC B1650/32 is stored as a result of troubleshooting for the airbag system, perform troubleshooting for the occupant classification system. (a) Connect the Techstream to the DLC3. (b) Turn the ignition switch t ...
Inspection
INSPECTION PROCEDURE 1. INSPECT REAR DOOR LOCK ASSEMBLY LH (a) Check the door lock motor operation. (1) Apply battery voltage to the door lock motor and check the operation of the door lock motor. OK: Measurement Cond ...