Toyota 4Runner: Removal
REMOVAL
CAUTION / NOTICE / HINT
HINT:
Use the same procedure for the RH and LH sides.
The procedure listed below is for the LH side.
PROCEDURE
1. DISCONNECT CABLE FROM NEGATIVE BATTERY TERMINAL
NOTICE:
When disconnecting the cable, some systems need to be initialized after the cable is reconnected (See page

).
2. REMOVE REAR WHEEL
3. DRAIN BRAKE FLUID
4. DISCONNECT REAR FLEXIBLE HOSE LH

5. REMOVE REAR SPEED SENSOR LH

6. REMOVE PARKING BRAKE ASSEMBLY
(a) Remove the parking brake assembly (See page

).
7. REMOVE REAR AXLE SHAFT WITH PARKING BRAKE PLATE LH
| | |
| --- | --- |
| (a) Remove the 4 nuts and rear axle shaft with parking brake plate. | |
(b) Remove the O-ring.
8. REMOVE REAR AXLE SHAFT OIL SEAL LH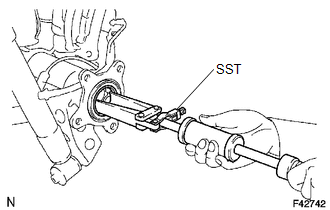 (a) Using SST, remove the rear axle shaft oil seal.
SST: 09308-00010
DISASSEMBLY PROCEDURE 1. REMOVE REAR AXLE SHAFT SNAP RING LH (a) Using a snap ring expander, remove the snap ring. 2. REMOVE REAR AXLE SHAFT LH (a) Using SST and a press, press out the rear a ...
INSPECTION PROCEDURE 1. INSPECT REAR AXLE SHAFT (a) Using a dial indicator, measure the rear axle shaft runout and flange runout. Maximum runout: Shaft runout: 1.50 mm (0.0591 in.) Flange run ...
Other materials about Toyota 4Runner:
Problem Symptoms Table
PROBLEM SYMPTOMS TABLE HINT: Use the table below to help determine the cause of problem symptoms. If multiple suspected areas are listed, the potential causes of the symptoms are listed in order of probability in the "Suspected Area&quot ...
Diagnostic Trouble Code Chart
DIAGNOSTIC TROUBLE CODE CHART NOTICE: Turn the ignition switch off before removing parts. HINT: If no abnormality is found when inspecting parts, inspect the stabilizer control ECU and ground points for poor contact. If a trouble code is ou ...