Toyota 4Runner: Disassembly
DISASSEMBLY
PROCEDURE
1. REMOVE REAR AXLE SHAFT SNAP RING LH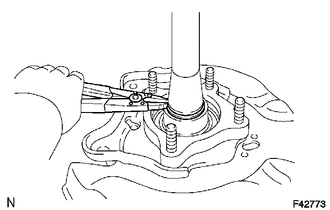 (a) Using a snap ring expander, remove the snap ring.
2. REMOVE REAR AXLE SHAFT LH
(a) Using SST and a press, press out the rear axle shaft.
SST: 09521-25023
SST: 09521-25011
| | |
| --- | --- |
| (b) Grind the rear axle bearing retainer using a grinder, and then remove it with a chisel. | |
(c) Remove the shaft washer from the axle shaft.
3. REMOVE REAR AXLE HUB AND BEARING ASSEMBLY LH
(a) Temporarily install 4 nuts to the housing bolts.
NOTICE:
Do not use any nuts removed from the vehicle, as they may be damaged.
(b) Using a hammer, remove the 4 housing bolts and rear axle hub and bearing.
(c) Remove the 4 nuts.
4. REMOVE BRAKE DRUM OIL DEFLECTOR LH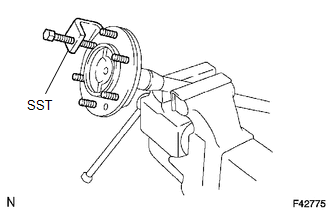 (a) Using SST, remove the 6 hub bolts.
SST: 09650-17011
NOTICE:
Do not deform the oil deflector.
Make sure to align the notch of SST with the flange of the oil deflector.
(b) Remove the deflector and deflector gasket from the rear axle shaft.
COMPONENTS ILLUSTRATION ILLUSTRATION ...
REMOVAL CAUTION / NOTICE / HINT HINT: Use the same procedure for the RH and LH sides. The procedure listed below is for the LH side. PROCEDURE 1. DISCONNECT CABLE FROM NEGATIVE ...
Other materials about Toyota 4Runner:
Disassembly
DISASSEMBLY PROCEDURE 1. REMOVE FRONT AXLE WITH ABS ROTOR BEARING ASSEMBLY LH (a) Gently fix the front axle hub in a vise between aluminum plates. (b) Using SST, remove the bearing. SST: 09710-300 ...
Data List / Active Test
DATA LIST / ACTIVE TEST 1. ACTIVE TEST HINT: Using the Techstream to perform Active Tests allows relays, VSVs, actuators and other items to be operated without removing any parts. This non-intrusive functional inspection can be very useful because inter ...