Toyota 4Runner: Disassembly
DISASSEMBLY
PROCEDURE
1. REMOVE REAR AXLE SHAFT SNAP RING LH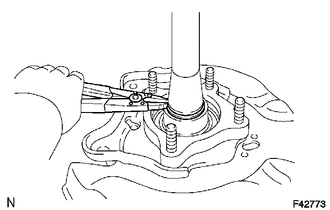 (a) Using a snap ring expander, remove the snap ring.
2. REMOVE REAR AXLE SHAFT LH
(a) Using SST and a press, press out the rear axle shaft.
SST: 09521-25023
SST: 09521-25011
| | |
| --- | --- |
| (b) Grind the rear axle bearing retainer using a grinder, and then remove it with a chisel. | |
(c) Remove the shaft washer from the axle shaft.
3. REMOVE REAR AXLE HUB AND BEARING ASSEMBLY LH
(a) Temporarily install 4 nuts to the housing bolts.
NOTICE:
Do not use any nuts removed from the vehicle, as they may be damaged.
(b) Using a hammer, remove the 4 housing bolts and rear axle hub and bearing.
(c) Remove the 4 nuts.
4. REMOVE BRAKE DRUM OIL DEFLECTOR LH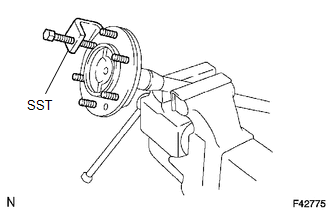 (a) Using SST, remove the 6 hub bolts.
SST: 09650-17011
NOTICE:
Do not deform the oil deflector.
Make sure to align the notch of SST with the flange of the oil deflector.
(b) Remove the deflector and deflector gasket from the rear axle shaft.
COMPONENTS ILLUSTRATION ILLUSTRATION ...
REMOVAL CAUTION / NOTICE / HINT HINT: Use the same procedure for the RH and LH sides. The procedure listed below is for the LH side. PROCEDURE 1. DISCONNECT CABLE FROM NEGATIVE ...
Other materials about Toyota 4Runner:
XM Tuner Malfunction (B15BA)
DESCRIPTION These DTCs are stored when a malfunction occurs in the stereo component tuner assembly. DTC Code DTC Detection Condition Trouble Area B15BA When either of the conditions below is met: ...
Back-up Power Source Circuit
DESCRIPTION The back-up power source circuit for the air conditioning amplifier assembly is shown below. Power is supplied even after the ignition switch is turned off and is used for diagnostic trouble code memory, etc. WIRING DIAGRAM CAUTION / NOTIC ...