Toyota 4Runner: Precaution
PRECAUTION
1. IF ANY OF FOLLOWING CONDITIONS ARE MET, KEEP ENGINE IDLING (ENGINE SPEED AT LESS THAN 2000 RPM) WITH AIR CONDITIONING SWITCH ON FOR AT LEAST 2 MINUTES
Refrigerant gas has been refilled or parts of the air conditioning system have been replaced.
The engine has not been started for a long time.
NOTICE:
If the engine speed is more than 2000 rpm, the cooler compressor assembly may be damaged.
2. DO NOT HANDLE REFRIGERANT IN AN ENCLOSED AREA OR NEAR AN OPEN FLAME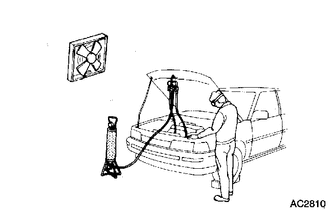 3. ALWAYS WEAR EYE PROTECTION
4. BE CAREFUL NOT TO GET LIQUID REFRIGERANT IN YOUR EYES OR ON YOUR SKIN
If liquid refrigerant gets in your eyes or on your skin:
(a) Wash the area with lots of cold water.
CAUTION:
Do not rub your eyes or skin.
(b) Apply clean petroleum jelly to the skin.
(c) Go immediately to a hospital or see a physician for professional treatment.
5. NEVER HEAT CONTAINER OR EXPOSE IT TO OPEN FLAME
6. BE CAREFUL NOT TO DROP CONTAINER OR APPLY PHYSICAL SHOCKS TO IT
7. DO NOT OPERATE COMPRESSOR WITH INSUFFICIENT REFRIGERANT IN REFRIGERANT SYSTEM
If there is not enough refrigerant in the refrigerant system, oil lubrication will be insufficient and compressor burnout may occur. Necessary care should be taken to avoid this.
8. DO NOT OPEN HIGH PRESSURE MANIFOLD VALVE WHILE COMPRESSOR IS OPERATING
Open and close only the low pressure valve. Opening and closing the high pressure valve could cause the charging cylinder to rupture.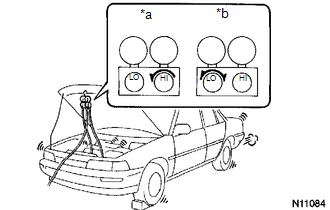 Text in Illustration
9. BE CAREFUL NOT TO OVERCHARGE SYSTEM WITH REFRIGERANT
If the refrigerant is overcharged, it causes problems such as insufficient cooling, poor fuel economy and engine overheating.
10. DO NOT OPERATE ENGINE AND COOLER COMPRESSOR ASSEMBLY WITHOUT REFRIGERANT
NOTICE:
This may damage the inside of the cooler compressor assembly.
PARTS LOCATION ILLUSTRATION ILLUSTRATION ILLUSTRATION ...
SYSTEM DESCRIPTION 1. GENERAL (a) The air conditioning system has the following controls. Control Outline Manual Control The air conditioning ampli ...
Other materials about Toyota 4Runner:
Integration Relay
On-vehicle Inspection ON-VEHICLE INSPECTION PROCEDURE 1. REMOVE NO. 1 RELAY BLOCK COVER (a) Remove the No. 1 relay block cover. 2. INSPECT NO. 1 INTEGRATION RELAY (a) Using a screwdriver, detach the 2 claws and disconnect the No. 1 integ ...
Confirm Vehicle Headunit Functionality
PROCEDURE 1. CHECK CUSTOMER'S CELLULAR PHONE COMPATIBILITY (a) Go to TIS "Bluetooth" Compatibility Portal and check if the cellular phone is compatible. Result Proceed to ...